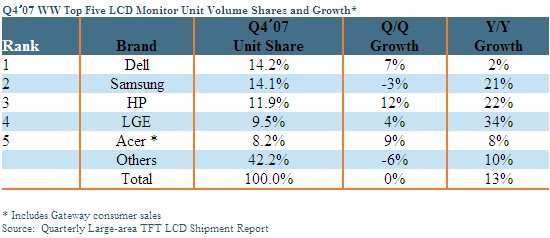 Worldwide sales of desktop LCD monitors remained virtually flat in Q4'07, as shown above. Total LCD monitor shipments grew less than 0.5% Q/Q, making this the first time since the LCD monitor market began in earnest in 1999 that such small growth has been seen from Q3 to Q4. "While it is quite typical to see a sequential dropoff in unit volume sales for both commercial and consumer buyers in seasonally weak period such as the first quarter of each year, it is quite unusual to see such flat growth in the fourth quarter of the calendar year," noted Chris Connery, vice-president of PC and Large Format Displays for DisplaySearch.
Regional analysis shows that weak sales of LCD monitors into the EMEA market (which fell -5% Q/Q) was the biggest contributor to the overall weak market. Sales into North America were also weaker than expected, rising only 4.6% sequentially. Leveraging POS sell-through data for both commercial and consumer channels from parent company The NPD Group, further analysis shows that consumer demand for LCD monitors, a recent catalyst for growth, dropped 12% Y/Y in retail sell-through to US consumers, contributing in a large way to the weak overall worldwide LCD monitor shipments in the quarter. Strong growth in US commercial segments, which showed a Y/Y increase of 25%, indicates institutional purchasing remained healthy.
In consecutive quarters leading up to Q4, typically a hot selling and shipping season for LCD monitor manufacturers, pricing for key panel components had seen steady increases, so brands were much less aggressive in their holiday price promotions in 2007. "With a significant penetration of wide displays already having been purchased by consumers in the prior year, little promotional activity, and no new technologies of note, brands had little new to offer to US consumers, which left the desktop monitor category off the radar for most US consumers in Q4'07," noted Connery. Institutional purchases remained strong, however, with business, education and government continuing their transitions from standard-aspect ratio displays to wide displays either as stand-alone upgrade or as part of the hardware and software transition to Microsoft's Vista.
Healthy commercial demand for new displays is expected to remain in 2008 as at least two different independent studies show clear productivity advances in standard workplace environments as a result of upgrading older, standard aspect ratio displays such as the mainstream 17" SXGA display or the 19" SXGA display to larger and wider displays such as 22" Wide displays. Additionally, Microsoft has now released its first service pack for Vista. This has reportedly been the milestone that many companies were waiting for before standardizing on the new operating system. Wholesale hardware upgrades are expected to be concurrent with new operating system deployment.
While to some the LCD monitor market may seem like old news, its significance to the total LCD market and its entire value chain remains quite relevant (see Table 2). "LCD monitors still accounted for over 43% of the unit volumes of large-area LCD shipments in Q4'07," notes Connery. "The health of this sector remains a key benchmark for many in the LCD supply chain." While LCD TVs account for just under 50% of the large-area revenues in the three main application areas of larger-format LCDs (TVs, notebooks and monitors), unit volume shipments of desktop monitor displays help to keep factories fully-operational. A healthy monitor market with strong demand helps to keep overall pricing up for panel manufacturers by allowing them to operate at maximum efficiency. A slip in demand for monitors could shift production towards other applications such as LCD TVs or notebook displays, thus potentially causing oversupplies of capacity in either of these areas, resulting in lower pricing. It is thus in the best interest of the LCD industry to maintain a healthy desktop monitor business to mitigate losses that might result from a drop in demand.



Keeping the desktop monitor market healthy in an environment with weak US consumer spending, increased penetration of notebooks and challenges associated with creating profitable solutions for lesser-development countries will all be topics of discussion during DisplaySearch's 10th Annual US FPD Conference to be held March 11-13 in San Diego. During the desktop monitor session, DisplaySearch will present its full findings from Q4'07 and its outlook through 2015, and attendees will also hear from leading vendors with a vested interest in keeping this market healthy.
Lenovo, one of the world's top selling PC companies, will discuss its outlook for desktop PCs and displays in the commercial market in light of the worldwide movement to Green IT (and the impact that the display has on the IT infrastructure), as well as the impact of the release of Windows Vista Service Pack 1. Will this finally start pushing institutions towards this operating system upgrade with concurrent hardware upgrades?
The world's #2 producer of LCD panel components for desktop monitors, AU Optronics (AUO), will offer its outlook on the continuing evolution of the definition of a "desktop monitor display." The line between monitors and TVs may once again become blurry as 16:9 aspect ratio desktop displays become more prevalent in the monitor category in coming years.
One of the top ten brands in the Latin America region, Positivo Informatica will discuss its views of the Brazilian market, which is one of the largest regions in Latin America. On topic will be what it will take to migrate all customers in this region from CRTs, which had an 18% share of sales in that region in Q4'07.
The session will be rounded out with a presentation from the world's largest IT distributor Ingram Micro ($28B). Due to the over-saturation of brand players in the supply chain, it is devoting specific resources to promote its house-brand product line (under the V7 brand) in an effort to trim down the number of industry players, weeding out third- and fourth-tier brands, to help keep margins steady for its own business as well as of its key tier 1 and tier 2 brand partners.